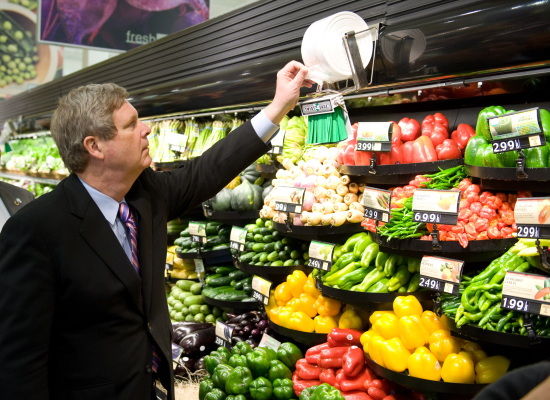 U.S. Secretary of Agriculture Tom Vilsack and First Lady Michelle Obama know fresh produce is invaluable to good health, and are spreading the word.
(See the
slideshow
of their recent shopping adventure in North Philadelphia on The Huffington Post.)
The support coming from the top to improve childhood nutrition is most welcome at Second Harvest. For several years now, we have put a lot of thought and effort into upgrading the nutritional density of food we distribute. A Nutritional Indexing System developed in-house has enabled us to tag incoming food with a number according to certain guidelines that have been established, and then these numbers are tracked over time.
Thanks to the
Farm to Families
program, a large percentage of our food poundage gets the highest ranking as fresh produce. At a recent
Family Harvest
distribution, I watched children in their school uniforms on the grass working their way through bags of fresh, sweet oranges, rinds piling up next to them as their parents picked up the rest of their food allotment. The kids' bright smiles and laughter said it all.
We believe we have a responsibility to those we serve in our community to provide quality, nutritious food that will enable parents to instill healthy eating habits in their children despite their current financial status. The
little girl on our holiday food drive poster
is standing next to a cart of the actual food that was going out on the day we showed up. Check out that produce!
Second Harvest is pleased that a number of our key priorities for the reauthorization of the Child Nutrition Act—including improved access to fill the gaps in food assistance and the development of innovative ways to reach hungry children during out-of-school times—are included in the Obama Administration's priorities. We look forward to working with the Administration and Congress in the coming months to make legislative changes that will move the nation forward in the crusade to end childhood hunger in America.
Check out a full list of Secretary Vilsack's administration priorities
on our main website.
In addition to Secretary Vilsack's work, First Lady Michelle Obama will also be positively impacting our efforts with her "
Let's Move
" campaign and the new foundation she heads up called "
Partnership for a Healthier America
".
From their website:
"The Partnership for a Healthier America will serve as a partner to the First Lady's Let's Move Initiative by linking and mobilizing the private sector, foundations, thought leaders, media, and local communities to action and further the goals of curbing childhood obesity within a generation."
Our Senior Director of Programs and Services Cindy McCown will be in Washington DC next week for the 2010 National Anti-Hunger Policy Conference. Stay tuned for info and actions to come! Be sure to get the news:
sign up for our email list here
and help us end childhood hunger!
Further Info:
Learn about our Produce Mobile serving local food deserts and the Kids NOW program that sends food home with kids every Friday, filling the gap until they are back in school on Monday. These creative solutions to ending hunger are right in line with Vilsack's priority recomendations.
Do you know someone or a family who could use assistance? Check out our Outreach Flyers and Handouts page.